Explore the
Military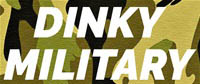 range
Between 1937 and 1939, Dinky produced a number of military vehicles, numbered from 151 to 162. They were painted army green, and consisted of a medium and a light tank, an Austin 7 military car, a six-wheeled truck, a reconnaissance car, a searchlight lorry, an anti aircraft gun, a Vickers Light Dragon artillery tractor with limber and 18-pounder gun. Most interesting were several fairly detailed trailers, including an ammunition trailer, a cooker trailer and a water tank trailer. The military offerings were produced through 1941, though a few select models – the clever 16lb anti-aircraft gun, the 151a medium tank, and some of the trailers – were also made again from 1946 to 1955.
Military models were made until the end of production in the late 1970s. A wide variety of military vehicles were produced, such as the Jeep-like Austin Champ, which included a driver and passengers.
Are you a collector of historical military replicas? Browse our collection of vintage Dinky military toys and we might have something to suit you!